Each treatment can be performed by microneedling or electroporation.
CO2 Carboxy Therapy Express Facial NEW!
CO2 Carboxy facial is a needle-free therapy that boost skin metabolism and natural production of oxygen. Carboxy therapy makes skin dramatically brighter, fresher, even-toned and supple after first use. This treatment is also effective for bruising, swelling, and acne.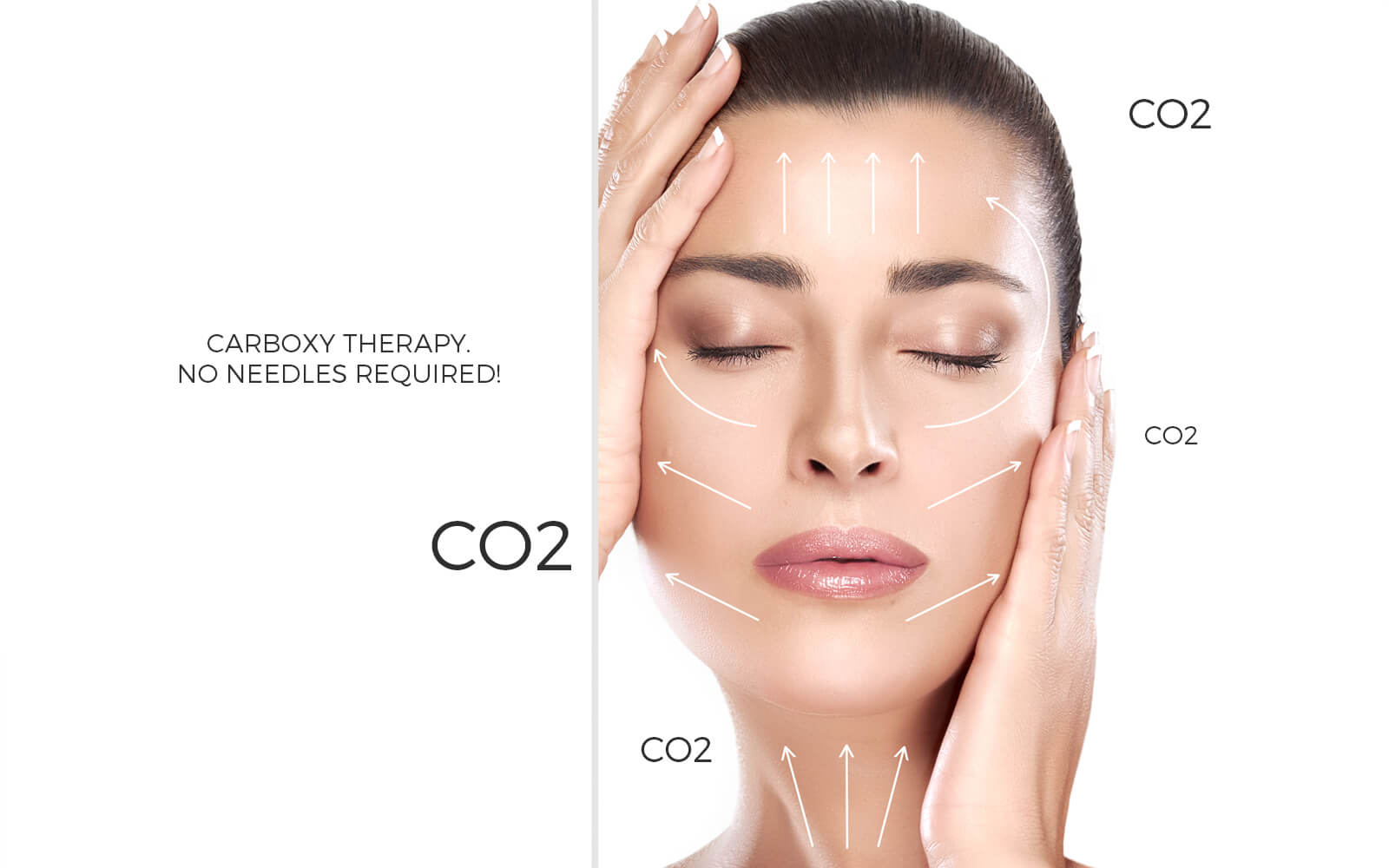 How it works and what is Bohr Effect?
When carbon dioxide is absorbed by skin cells from gel, hemoglobin in red blood cells release oxygen. This process provides oxygen to the skin while simultaneously stimulating the blood circulation, metabolism, protein synthesis and disposal of skin waste. These reactions reduce marks, cellulite, acne and inflammation while enhancing skin tone, elasticity and oil/moisture balance.
Benefits:
Wrinkle Reduction: Transforms aged skin with wrinkles into elastic and youthful skin
Acne Treatment: Accelerates blood flow and waste discharge effectively treats acne by recovering self-regenerative capacity of skin with anti-inflammatory properties
Lifting Effects: Promotes protein synthesis and metabolism, redefining sagging lines and enhancing skin elasticity
Exfoliation: Effectively removes remaining waste and dead cells
Why Choose CO2 Carboxy Facial?
Carboxy CO2 therapy is a great option for people who are looking for treatments that deliver instant results. After one treatment you will see immediate results including a more even skin tone, smoothing of fine wrinkles and extremely soft skin. This facial is also effective for those who experience bruising and swelling. The results are cumulative, so the more you come in for Carboxy CO2 therapy, the more consistently you will enjoy soft, youthful, rejuvenated skin. Anytime you are feeling like your skin could use a lift, schedule a Carboxytherapy facial with Divine Medical Spa and experience this luxurious treatment and effective.
Package of 4 (twice a week) – $350 (for bruise and swelling program. One month after major procedure)
TheseraL Liquid Threads Facial NEW!
The newest generation of no needle thread lift which is completely safe, clinically proven and non-invasive treatment uses a patented TDN technology, leading the way in the future of skin care. This process creates lift based on melting (dissolving) threads. Melting threads are a THESERA L cosmetological product, developed in South Korea by specialists of MR Innovation Co. No-needle TDN solution penetrates the dermal layers via a paracellular pathway filling the area under the skin. The thread fiber in the form of liquid is applied to the epidermis surface of skin.The ingredients are encapsulated and moved to lower skin layers. The process consists of 5 separate stages:
Creation of the tunnel
Absorption of threads
Moisturise
Acceleration of thread absorption
Nourishment
After the procedure, the skin becomes visibly lifted, denser and more elastic.
The advantages of TheseraL liquid threads facial:
Absolutely Zero needles, incisions, bruising, swelling, downtime
Safe
Painless
Provides instant lifting & tightening
Boosts elasticity
Minimizes wrinkles
Improves dermal density
Improves volume
TheseraL Liquid Threads Facial